CAPTIVATING TALES: THE JOURNEY OF EXQUISITE JEWELLERY AND TIMELESS SAREES
Discover the enchanting world of Vasah India, where artistry meets affordability. Since 2014, Ms. Padmini Payakkal, our visionary business owner, and an artisan with an impeccable aesthetic sense, has been conceptualizing unique designs. Experience the allure of our exquisite jewellery and timeless sarees, offered at fair and affordable prices.
DISTINCTIVE CHARMS: WHAT SETS US APART IN THE WORLD OF JEWELLERY AND SAREES
At our core, we embody the essence of masterful craftsmanship, fine materials, design excellence, and longevity. With an unwavering commitment to quality, we create exquisite pieces that stand the test of time. From intricately handcrafted jewelry to meticulously woven sarees, our offerings encapsulate the beauty of tradition and contemporary allure. Each creation is infused with passion and artistry, reflecting our dedication to preserving the essence of Indian heritage. Step into a world where distinctive charms meet impeccable quality, where every piece tells a story of timeless elegance and enduring durability.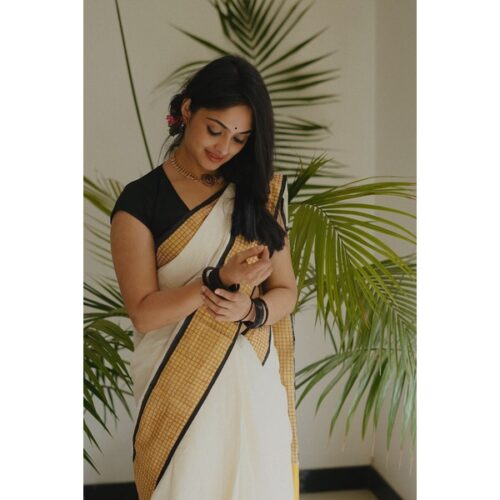 INDULGE IN UNFORGETTABLE MOMENTS: THE ENCHANTING STORE EXPERIENCE
Step into our captivating world where unforgettable moments unfold. Our amazing experience centre is now open, inviting customers to immerse themselves in a realm of beauty and elegance. Feel the enchanting aura as you explore our stunning stock, meticulously curated to capture your imagination. Experience personalized shopping like never before, guided by the expertise of our very own artistic expert, Ms. Padmini Payakkal. Discover the perfect piece that resonates with your unique style and story, and let us be part of your cherished memories. Come, indulge in a journey of exceptional beauty and create your own unforgettable moments.
A TEAM CRAFTED WITH PASSION: MEET THE ARTISANS BEHIND VASAH INDIA
At Vasah India, we take immense pride in the exceptional teams that form the backbone of our operations. Our artisans, with their boundless passion and craftsmanship, breathe life into every piece of jewellery and every saree in our store. With meticulous attention to detail, they infuse each creation with a touch of elegance and tradition. Behind the scenes, our packaging and administrative teams work tirelessly to ensure a seamless experience for our valued customers. Together, we are committed to delivering exquisite craftsmanship and exceptional service, making Vasah India your destination for timeless beauty and impeccable quality.